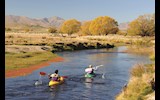 The Taieri river runs through the farm and it's only 10 minutes walk from Peter's Farm Lodge and Tregonning Cottage. This river is the third longest in New Zealand. We have kayaks available for you to use. Ideal for families to explore.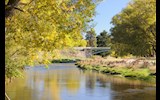 Relax and enjoy an afternoon fishing on the Taieri river. There are 2 fishing rods available for guests to use. Day or season licences are available from Ranfurly.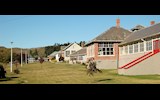 7 km from the lodge stands this complex which was originally built as a tuberculosis hospital in the 1930s. It later became a youth centre but government ended the funding and it was sold. It is now Christian Community known as a En Hakkore.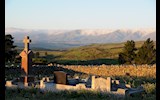 3 km past the religious retreat, En Hakkore, you will find Hamilton's gold diggings. Carry on further and you will find the restored Hamilton's Cemetery with its spectacular views of the Maniototo plain and surrounding mountains. This road carries on to Patearoa where you can loop back through the bottom road to Waipiata.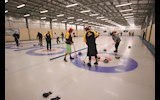 Experience the Scottish sport of curling all year round in the new Maniototo international curling centre. Suitable for both children and adults, this activity is fun for the whole family. During the winter months you may also enquire about curling outdoors on the frozen pond.